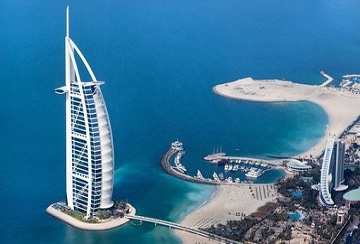 The United Arab Emirates is an Arabian Peninsula nation settled mainly along the Persian (Arabian) Gulf. The country is a federation of 7 emirates. Abu Dhabi, the island capital, is home to Sheikh Zayed Grand Mosque, with crystal chandeliers and room for 40,000 worshipers. Dubai is the site of ultramodern Burj Khalifa tower, enormous shopping centers and extravagant entertainment attractions. Visitors to the United Arab Emirates must obtain a visa prior to travel unless they come from one of the visa exempt countries or one of the countries whose citizens are eligible for visa on arrival. Citizens of member nations of the Gulf Cooperation Council have a freedom of movement in the UAE, except for citizens of Qatar who are no longer allowed to enter (since 2017), unless they are a family member of a resident. All visitors visiting the United Arab Emirates must hold a passport valid for at least 6 months
The United Arab Emirates is an Arabian Peninsula nation settled mainly along the Persian (Arabian) Gulf. The country is a federation of 7 emirates. Abu Dhabi, the island capital, is home to Sheikh Zayed Grand Mosque, with crystal chandeliers and room for 40,000 worshipers. Dubai is the site of ultramodern Burj Khalifa tower, enormous shopping centers and extravagant entertainment attractions. Visitors to the United Arab Emirates must obtain a visa prior to travel unless they come from one of the visa exempt countries or one of the countries whose citizens are eligible for visa on arrival. Citizens of member nations of the Gulf Cooperation Council have a freedom of movement in the UAE, except for citizens of Qatar who are no longer allowed to enter (since 2017), unless they are a family member of a resident. All visitors visiting the United Arab Emirates must hold a passport valid for at least 6 months
LIST OF COUNTRIES ARE EXEMPTED FROM THE UAE VISA
Freedom of movement: Bahrain, Kuwait, Oman, Saudi Arabia
Countries whose citizens are allowed a maximum stay of 90 days:
Austria, Italy, Belgium, Latvia, Bulgaria, Lithuania, France, Croatia, Luxembourg, Malta, Czech, Republic Netherlands, Denmark, Poland, Estonia, Finland, Romania, France, Slovakia, Germany, Slovenia, Greece, Spain, Hungary, Sweden, Iceland, Liechtenstein, Norway, Serbia, Switzerland, Turkey, Honduras, Montenegro, Saint Vincent and the Grenadines, Argentina, Barbados, Brazil, Chile, Seychelles, Uruguay.
Countries whose citizens are allowed a maximum stay of 30 days:Japan.
WHO ARE ELIGLE FOR VISA ON ARRIVAL
If you are a passport holder of the below country or territory, no advance visa arrangements are required to visit the UAE. Simply disembark your flight at Dubai International Airport and proceed to Immigration, where your passport will be stamped with a 30-days visit visa free of charge.
Andorra; Argentina; Australia; Brunei; Canada; Chile; Hong Kong, China; Ireland; Japan; Kazakhstan; Malaysia; Mauritius; Monaco; New Zealand; People's Republic of China; Russian Federation; San Marino; Singapore; Ukraine; United Kingdom; United States of America; Vatican City
TYPES OF UAE VISA
Entry Permit - Employment
Entry Permit - Family Visit
Entry Permit - Tourism/Transit
Entry Permit - Treatment
Entry Permit - Mission
Entry Permit - Attending Conferences.
REQUIRED DOCUMENTS FOR UAE VISA APPLICATION
All visitors to Dubai (UAE) must submit:
The validity of passport must be more than 6 months;
2 passport photos in 4x6 cm size white background, must be taken within the last 3 months;
Notarize true copy of Vietnam Temporary Residence Card or Vietnam visa and Work Permit applied for foreigner working in Vietnam;
Proof of professional status:
* For business owners: Notorized true copy of Business Registration Certification
* For employees: Notorized true copy of Labour Contract

Applying for tourism, visit, transit or work visa you need a sponsor from UAE, the sponsor could be:
an Emirati citizen
an expatriate resident with valid residency permit in the UAE
a UAE-based airline
a UAE-based hotel or tour agent
a government entity
companies in the private sector or free zones.
For short term business purpose, please provide the following documents
Documents from company in UAE
A letter of invitation from a company in UAE;
Copy of the sponsored person's passport
Copy of the company's valid trade licence
Copy of the establishment card

Documents from company in Vietnam
A letter of business decision
Tickets of entry for congress, exhibition, meeting, conferences taking….(if any)

For tourist purpose, please provide the following documents
For employees: Original leave application form
A copy of hotel booking;
A copy of return air-ticket;
In order to get a tourist visa to the UAE, you need to use a sevice with one of the UAE-based airlines, a tour agency or a prospective hotel in the UAE
VALIDITY OF VISA
For Tourist visas to the UAE can be issued for 30 days or 90 days duration, single entry or multiple entry. A tourist visa is not extendable.
For Transit visa allows the passenger 96 hours to visit freely inside the UAE. A transit visa is valid for 14 days from its date of issue and allows the passenger a single entry.
For Business visa allows the employee to enter the country within 2 months from the issuance date and to stay for a maximum period of 30 days from the date of entry.


PROCESSING TIME
It takes from 7 working days.
For further information, please contact us
Discovery Indochina Travel Co., Ltd
5th Floor | Avenis Building | 145 Dien Bien Phu Street, District 1 | Ho Chi Minh City | Vietnam
Tel: 028 39102358 | 028 39102359 | Mobile: 0938228856 | 0906640505
Email: Info@visa5s.com or Visa@ditravel.vn
www.visa5s.com | www.ditravel.vn